Who is Philippe?
Since 2017, Philippe has operated as an independent coach, with a focus on supporting organisations looking to progress their digital/agile transformations to a next level. Philippe works with organisations of all sizes, Corporates, Banks and Startups, to help them with the performance of their digital efforts.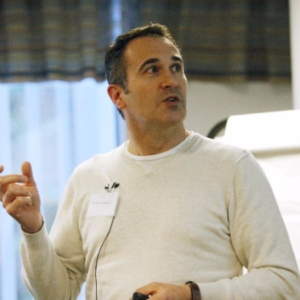 Prior to this, Philippe worked as an executive director in prime consultancies and supported large scale digital delivery leadership with clients such as Barclays or Vodafone, and digital strategy/Change programmes as advisory to CIOs, CTOs and digital officers (Ladbrokes, M&S, O2, etc.)
Philippe is a recognised specialist in Wardley Maps, ran multiple training, including a latest one on OReilly Media, and uses maps with clients. Philippe is also a Professional Certified Coach with the International Coaching Federation and has trialled this new approach of Strategy for Self with a number of coachees, to establish a landscape awareness for the coaching.
His session during the event
Philippe will be presenting two sessions during the event
1.- Main talk – Strategy for Self
As a professional leadership and team coach, I often face the issue that the coachee(s) do not have a clear view of their challenges and an articulation of what to focus on. It is tough progressing with meaningful coaching when people are caught up in the doing, with little idea of their travel directions or barriers to progress.
There is no lack of personal assessment tools to identify personality traits and tease out some focus areas. But those are generic and out of context, therefore only partially useful. So why not use Wardley Maps to map self and develop stronger situational and personal awareness?
This talk will present an approach and invite you to try it and create your personal development map.
Link to the template used during the session, and link to the presentation.
2.- Live Mapping workshop – The State of Agile
A live mapping session is an interactive workshop during which we will inform a topic by creating a map.
In this session, we will look at the State of Agile (presentation).
As Agile is now older than 20 years, how much has it evolved towards its maturity? Has it met the needs yet? What's next? Is "next" a better Agile or something entirely new?
These are the questions that we'll aim to answer during this workshop that I will facilitate. We will preposition some ideas to accelerate progress.
By the end of the session, you should gain a better awareness and have a map of the landscape you helped create.
You can register to the event here: